If you ever wanted to run away from it all, the past 2 years were the perfect time and it hasn't stopped in 2022.
Quarantined gyms and work-from-home introduced many to the world's oldest sport. Go outside and you'll see more people running than ever before — whether old, young, fit, or not-so-fit. With coronavirus forcing people to find new ways to stay shape, we were thrust into what we playfully dubbed a runnaissance.
Part anxiety-reducer, part equipment-free workout, running is as natural as the breath it takes away. From the balls of our feet to the curves of our backs, our bodies are quite literally designed for it. And if the "runner's high" is any indication, they're designed to reward it, too. What our bodies aren't designed for, however, is the modern impact of foot to asphalt.
Whether you're going for an early-morning social distance jog or running a marathon from your balcony, "pounding the pavement" goes both ways. Runners obsess over running shoes because they're the gear that matters. The best shoes don't just soften the impact — they can make running a pleasure. Deciding to lace-up is one thing, but how to choose the best running shoes? That's a whole other question.
Finding the running shoes that work best for you can be an involved — and intimidating — process. But the payoff is worth it. As we approach the warmer months, we put together a guide to the best running shoes for men you can currently buy.
What are the best running shoes?
The best running shoes are those that fit the way you naturally run. That's the big secret.
Some running shoes may be lighter and stiffer and made for racing. These shoes will use "energy-return" technology, like ASICS' Flytefoam or Nike's Zoom Air, to redirect energy from impact into each new step. Others may be bigger and cushier and built for slow miles. These shoes will use "cushioning" technology, like New Balance's FreshFoam or Saucony's PWRRUN+, to lessen felt impact and ease wear on joints.
Some even use hybrid technologies that promise cushioning and energy return, like adidas' BOOST or Nike's ZoomX. These shoes can fit a variety of purposes, depending on how everything north of the sole is kitted out.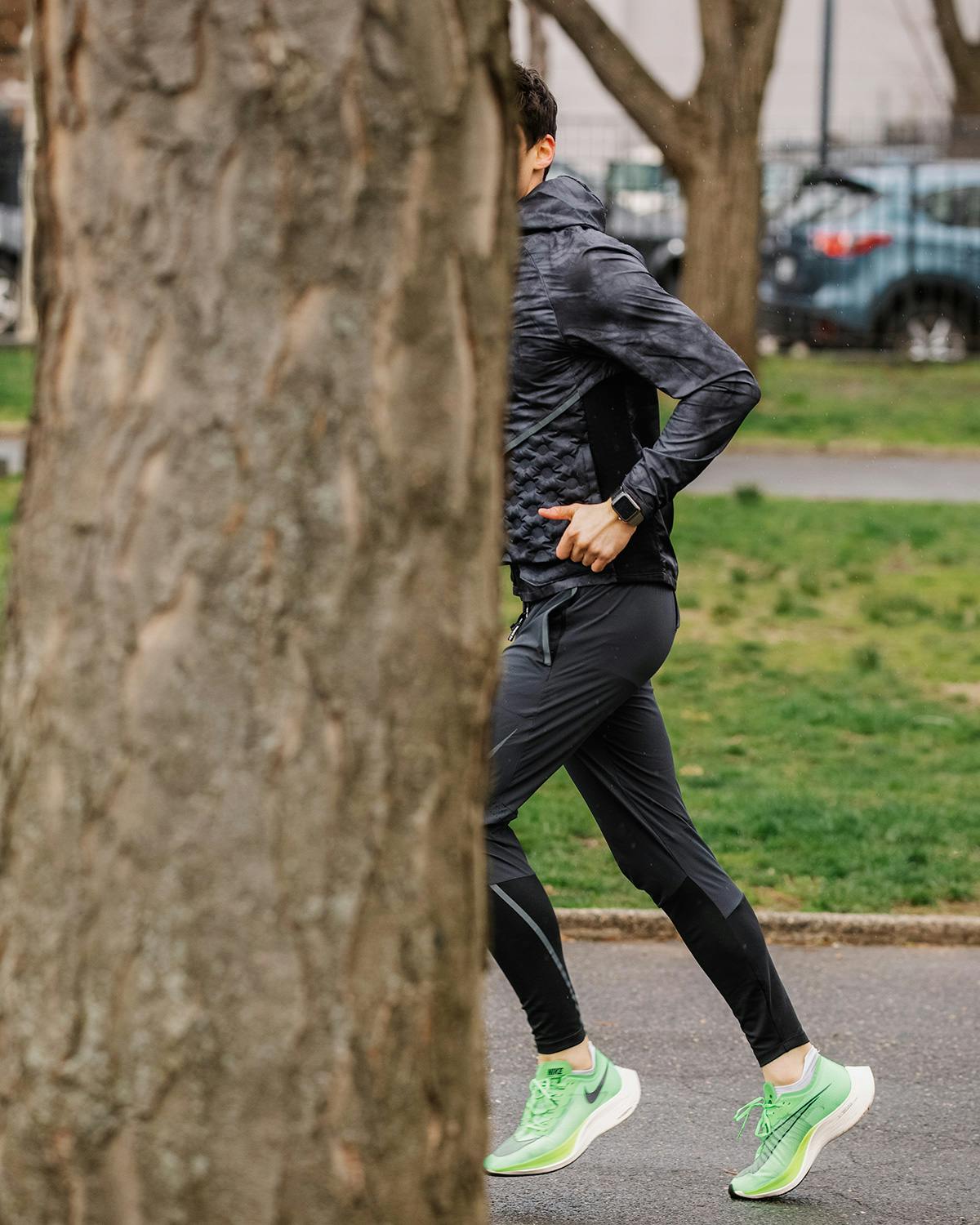 But all of that doesn't matter unless the shoe works for you, and for how you run.
A visit to your local running specialty store (if possible) will be the best way to find the right fit. Speaking broadly, running specialty stores (such as JackRabbit in the US or Run and Become in the UK) hire experienced runners as employees and train them to a degree that bigger chains can't. These running shoe experts can then analyze the way you run based on a short jog, and help you find your perfect pair. Specialty stores will likely have an in-store treadmill to facilitate said jog, as well as a wide and impartial selection of brands that a monobrand store does not.
If you're just getting into running, bring questions (and a change of run clothes) to your local specialty store. And if you can't physically make it out to a store, record a video of you running a few steps and send that instead. Shops like New York's Brooklyn Running Company are there to help runners get started right, no matter the times.
How should running shoes fit?
Running shoes are described using two characteristics: cushioning and stability. Every running shoe has these qualities present in some degree, but they're dialed up and down depending on the job of the shoe.
Cushioning is intuitive. A running shoe with more cushion will feel plush and pillowy on every stride. That's generally nicer on joints over long distance, but it does remove the ground feedback that leads to 1) quicker steps and 2) form corrections. The opposite is true of one with less cushion, or what the running world typically calls "responsive" cushioning.
Stability is a little more heady.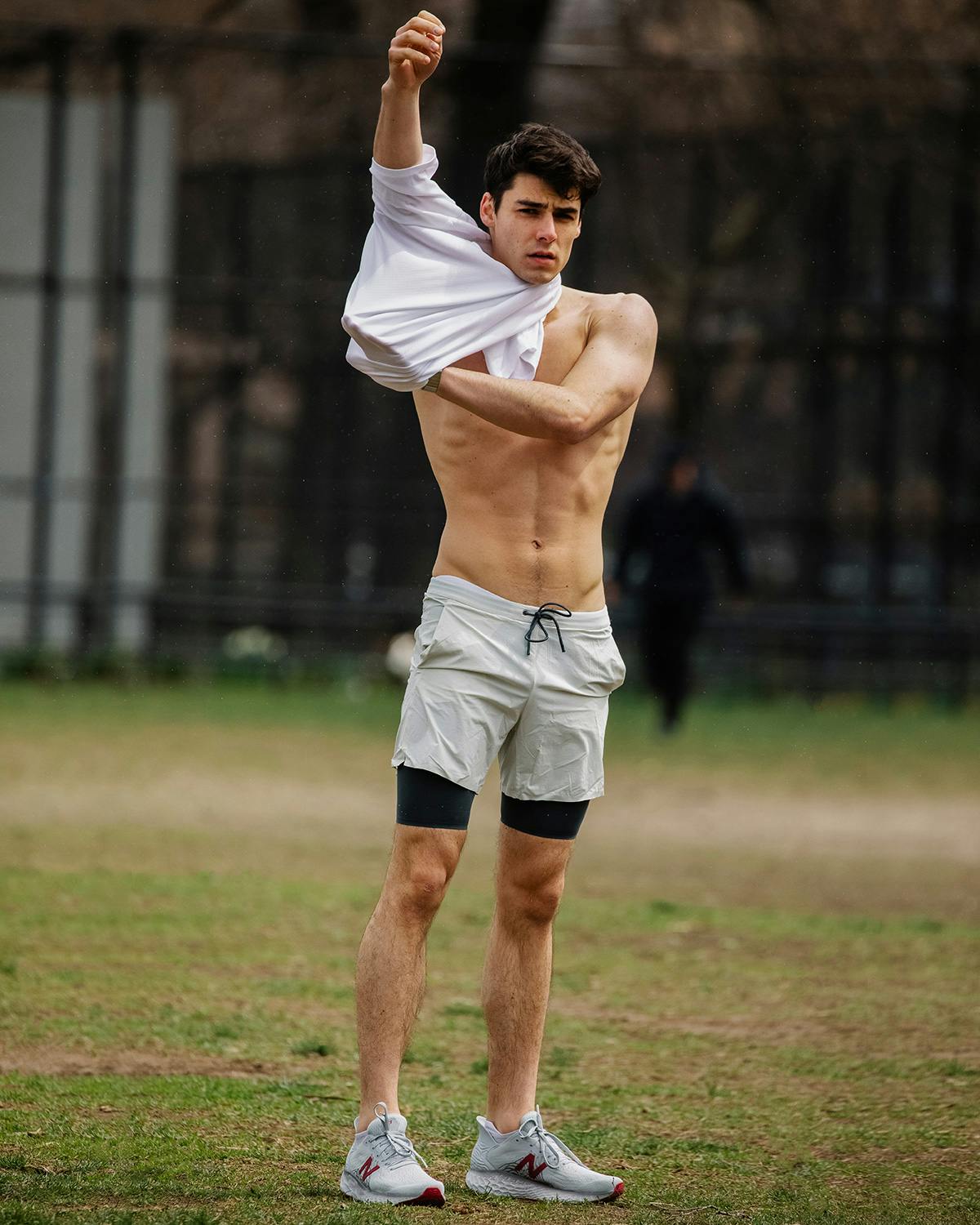 Every step of your run is part of what's called your "gait cycle." As your foot hits the ground, your body redistributes the impact of that strike by rolling your foot inwards (like how an action hero rolls after jumping off a roof). That rolling foot motion is called "pronation," and the degree to which your foot pronates determines how much stability you'd need. If you have flat feet (or low arches), you're prone to underpronating. The opposite is true for those with high arches.
So what does that all mean?
It means that those with normal-sized arches should seek shoes that don't load up on stabilizing features such as heel counters, medial posts, or Torsion systems. They'll "overcorrect" a good thing into something not so much. This is different to a shoe being built for durability or feeling "stable" in lateral movement because of features like heavier uppers. Throughout this guide, stability shoes will be referred to as such and have their correcting features called out. These shoes are intended for those with flat feet or high arches.
Generally, running shoes should fit bigger in the toe and tighter in the midfoot than casual shoes. Running as a motion slams your feet forward, so a tight toebox is a quick route to missing toenails.
How to choose running shoes for men?
After you know your stability and cushioning needs (ideally after a visit or chat with your local running shop), picking out one of the best running shoes for men is a matter of personal taste and lifestyle.
Will you be using this shoe exclusively for running, with another pair in your rotation for gym workouts? Double down on a lightweight beast like the HOKA Clifton 6 or Nike's Pegasus Turbo 2.
Will you be looking for one "workout" shoe to do it all, from pickup football to weekend 5K's? Look for a heavier, more versatile shoe like the Brooks Ghost 12 or Asics GEL-KAYANO 26.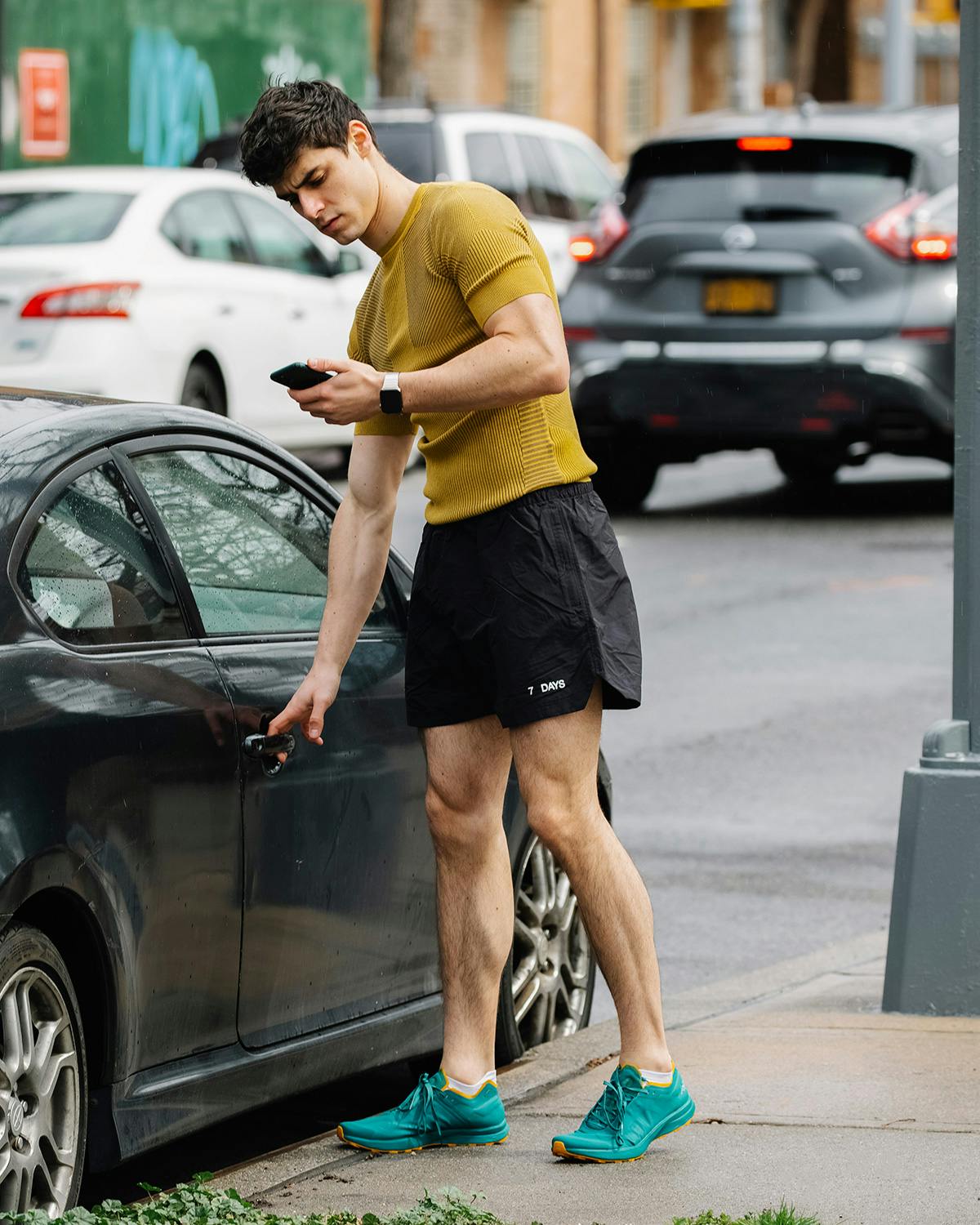 Regardless, the worst thing you can do is fall in love with a shoe's looks before knowing your running style and taking it for a spin. Style is nice, but fit is the be-all and end-all. So much of finding the best running shoe for you is trial and error. This is partly why you see runners wearing a wider variety of shoe brands than, say, basketball players. If Nike and adidas don't work for you, find new shoes! It's hard to look cool with a preventable injury. And with runner-friendly return policies like Running Warehouse's 90 day exchange out there, I'd even encourage new runners to pick a selection and see what works (ideally from somewhere local, since, ya know, shipping fumes).
Experienced runners will have tried dozens of shoes before finding the ones that work best for them — the only shoes I regretted were ones I tried to make into something they weren't because of their aesthetics. The good news is: regardless of your running style or your needs, there's a great-looking runner out there. Here are my picks.
Read on to find out the best running shoes for men in 2022
New Balance Fresh Foam 1080v11
New Balance's Fresh Foam 1080v11 is one of the best running silhouettes to come out of the brand for some years. A lightweight knit upper features selectively stretchy sections to ensure that comfort and support come in equal doses. Perhaps most noticeable when wearing the 1080v11 is the Ultra Heel technology which grips the heel to prevent your foot from sliding. The Fresh Foam midsole is one of our favorites on the market, reducing impact and therefore the likelihood of injury over long runs.
ASICS Novablast 2 SPS
Form and function are always a top priority over at ASICS. This means shoes from the Japanese brand will not only look great but will feel great while on the move. Renowned for its soft and plushie ride, the generously cushioned Novablast 2 is a shoe you can wear right out of the box into a 10-miler. You can thank the improved and responsive FF BLAST midsole for that. The upper is made from an icy white, premium jacquard mesh that is far more breathable and less scratchy than previous iterations of the shoe. Overall, this is a shoe built for distance — great if a marathon or two are on your New Years' list.
Scarpa Spin Infinity
Scarpa has been making some of the highest-performing, specialist outdoor garments for just under a century. But, while other brands rocketed into the world of style thanks to bold detailing and style-forward design, Scarpa quietly stuck to what it does best: performance. The Scarpa Spin Infinity is a nice example of what the brand stands for. In its all-black outfit, it's a no-fuss selection that's ideal for those who like to get muddy on their runs. A hard-wearing sole unit combines with the GORE-TEX-lined upper as proof of the Spin Infinity's preference for a long, hard ride.
adidas Ultraboost Climacool 1
The adidas Ultraboost family is one of the most successful running campaigns ever. It's not hard to see why, either. The model gets better every year, and real runners will have loved the most recent updates. Pre-2021 Ultraboost undoubtedly played more into the hands of lifestyle fans, but recent iterations have seen an increased focus on performance. The Climacool 1 DNA features two of adidas' prominent contributions to running footwear, Climacool's signature ventilated design and the responsive Boost midsole of the Ultraboost.
adidas Terrex Two Ultra Trail
The trail running wave will not be going away anytime soon. Sneakers such as the adidas Terrex Two Ultra Trail Sneakers are chunky, functional masterpieces that look as good treading muddy trails as they do under your techwear fit. Made using yarn built from recycled ocean plastic, the Two Ultra Trail Sneakers are definitely more lightweight than their category counterparts. But as we move into spring and summer, you can sacrifice GORE-TEX uppers for a lighter build anyway.
HOKA Clifton Edge
HOKA definitely has some of the boldest runners on the market in terms of visuals, and the wear-test is just as memorable as the aesthetic. The Clifton Edge features an unmissable extended sole unit which offers one of the smoothest heel strikes on the market thanks to the earlier impact and therefore cushioning.
and wander x Salomon Outpath GTX
If we're talking about trail runners, it would be criminal not to mention Salomon. The brand has consistently dominated the wardrobes of outdoors enthusiasts and sneakerheads. Why? The brand has managed to find that sweet spot between functionality and design. Coming together with the Japanese adventure brand and wander, the Outpath GTX features a waterproof GORE-TEX lining a wet traction contagrip outsole. Beautiful colorways, such as the above brown iteration have pushed the shoe into the arms of the style-conscious. It's a running shoe that looks great on and off the trail.
On Cloudventure
The Cloudventure is one of On's leading performance running sneakers. Aside from its standout futuristic aesthetic, the Cloudventure is revered for how it performs on the move. This shoe is equipped with the brand's latest tech, such as its CloudTecⓇ cushioning system which is designed to increase cushioning and dampen the impact on the heel. The sneaker is a solid choice if you are in the market for a shoe that offers impact protection, are an urban runner, or need something that is comfortable and looks good on your feet all day.
HOKA Mafate Speed 2
Much like Salomon, HOKA is at the forefront of creating innovative running shoes and has gained a following among sneaker enthusiasts for their comfort and beautifully constructed shoes. We have already gushed over the HOKA Clifton Edge. Here, we have something a little more chunky. This trail-running shoe features deep flex grooves in the outsole and a 5 mm Vibram Mega-Grip tread that enhances traction on the trickiest surfaces.
La Sportiva Ultra Raptor
La Sportiva's Ultra Raptor is a trail beast: a burly, cushioned-out, rock-breaker with the heft and confidence of a light hiking shoe. Rest assured, you can still run long in it. But at 12.1oz, it's best to think of this as a running shoe for those who plan to stay in the woods. I mention it here since, in a cosmic sense, the Ultra Raptor may just be the most versatile running shoe on this list. A capable trail runner that can pull its own weight as a hiking shoe, pavement jogger, and, if you believe A$AP Nast, style piece. "All-terrain," indeed.
Under Armour Flow Velociti Wind
This is Under Armour's fastest performance sneaker yet. Designed for long-distance runners, the lightweight sneaker weighs only 8.5 ounces. It features UA's Warp upper that molds to the foot and UA Flow midsole technology, which provides unrivaled cushioning. Don't get spooked by the fact that Under Armour is a relative underdog in the running game. These are great for those upcoming fall marathons.
norda 001 Running Sneakers
The sneaker industry doesn't have a great record with sustainability and running shoes are no different. This limited edition pair of norda's 001 takes that into consideration without sacrificing the shoe's performance as the upper is made from a bio-based and breathable Dyneema® material. Also, this pair takes the 001's reputation for having great grip to another level, being hand-painted and made with Litebase® and Megagrip® for increased traction.
Nike Pegasus Trail 3
Nike has launched its new and improved Pegasus trail 3, made from GORE-TEX material that makes it water-resistant. This latest iteration of the Pegasus Trail includes improved structure and durability but is flexible enough to handle any terrain that you use them on — especially with the improved traction provided from the sole.
Want to keep browsing? Head to the Highsnobiety Shop for more products that we love. Highsnobiety has affiliate marketing partnerships, which means we may receive a commission from your purchase.