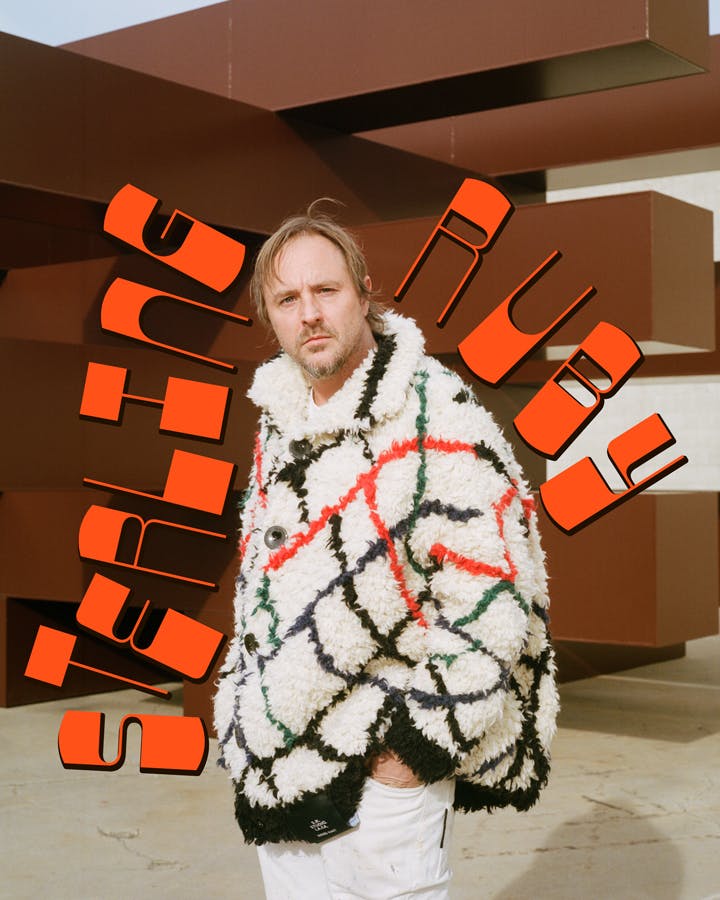 FRONTPAGE is Highsnobiety's weekly online cover story exploring the people, moments, and ideas shaping culture today. For the thirteenth edition of our series, Mehdi Dakhli visits artist Sterling Ruby in his Los Angeles studio.
Right before Thanksgiving break, I met with Los Angeles-based artist Sterling Ruby. His relatively empty studio allowed me to enjoy his work in various states of completion. Ruby — born in Germany in 1972 to a Dutch mother and an American father — is one of the biggest artists of his generation. His creativity has no limits. His work spans across a large variety of media, including ceramics, painting, drawing, sculpture, video, and collage, although he's mostly famous for his spray paintings and bleached collages. It's through these disciplines that he first collaborated with Raf Simons, designing his (now closed) Tokyo store in 2008 by transforming a generic layout into a giant 3D collage of his spray painted panels.
Ruby has also long experimented with textiles. Fashion — a natural next frontier — led him to design sturdy, paint-splattered, and bleached workwear inspired by his blue-collar roots, and brought in references from luxury menswear as well as punk and skateboarding culture (Ruby used to be a professional skateboarder). It led him to partner with Simons, once again, in 2009; this time on a capsule collection consisting of bleached denim jeans and jackets for Raf Simons' namesake brand. A fully-fledged collaboration with Simons followed in January 2014, when the two joined forces for the designer's Fall/Winter 2014 collection. The partnership continued episodically, with Ruby being enlisted by Simons during the designer's tenure as creative director at Dior and later chief content officer at Calvin Klein, until Simons' stormy departure from the brand in December 2018.
It led the contemporary artist to a rebranding of his own. This June, he added creative director to his title, when he debuted a ready-to-wear clothing line of his own (named S.R. STUDIO. LA. CA.) in Florence, Italy, during the city's bi-annual trade show, Pitti Uomo.
When I get to Soto Street facility in Vernon — an industrial town 20 minutes outside Downtown Los Angeles that has no more than 120 inhabitants and approximately 55 thousand workers commuting there every day — I'm welcomed by Sterling Ruby's staff members Tyler Britt and Reid Ulrich, both former students of artist Melanie Schiff (Ruby's wife, with whom he shares the studio and who's closely involved in the brand).
I'm expecting Britt and Ulrich to take me on a quick tour of the space, followed by a few minutes with Ruby — however, after Ruby takes over, time no longer seems a limitation.
Walking around the artist's 4-acre studio is a surreal experience. Firstly, because of how nice and easy Ruby is, but also because of the scale of his gigantic warehouse. Next to his many artworks (he keeps half of everything he has produced over the years) it houses a burnt green Chevrolet "Astro" van that he found during his commute to the studio, as well as a rusted, dismantled submarine, found in a scrap yard and exhibited in Paris a few years ago.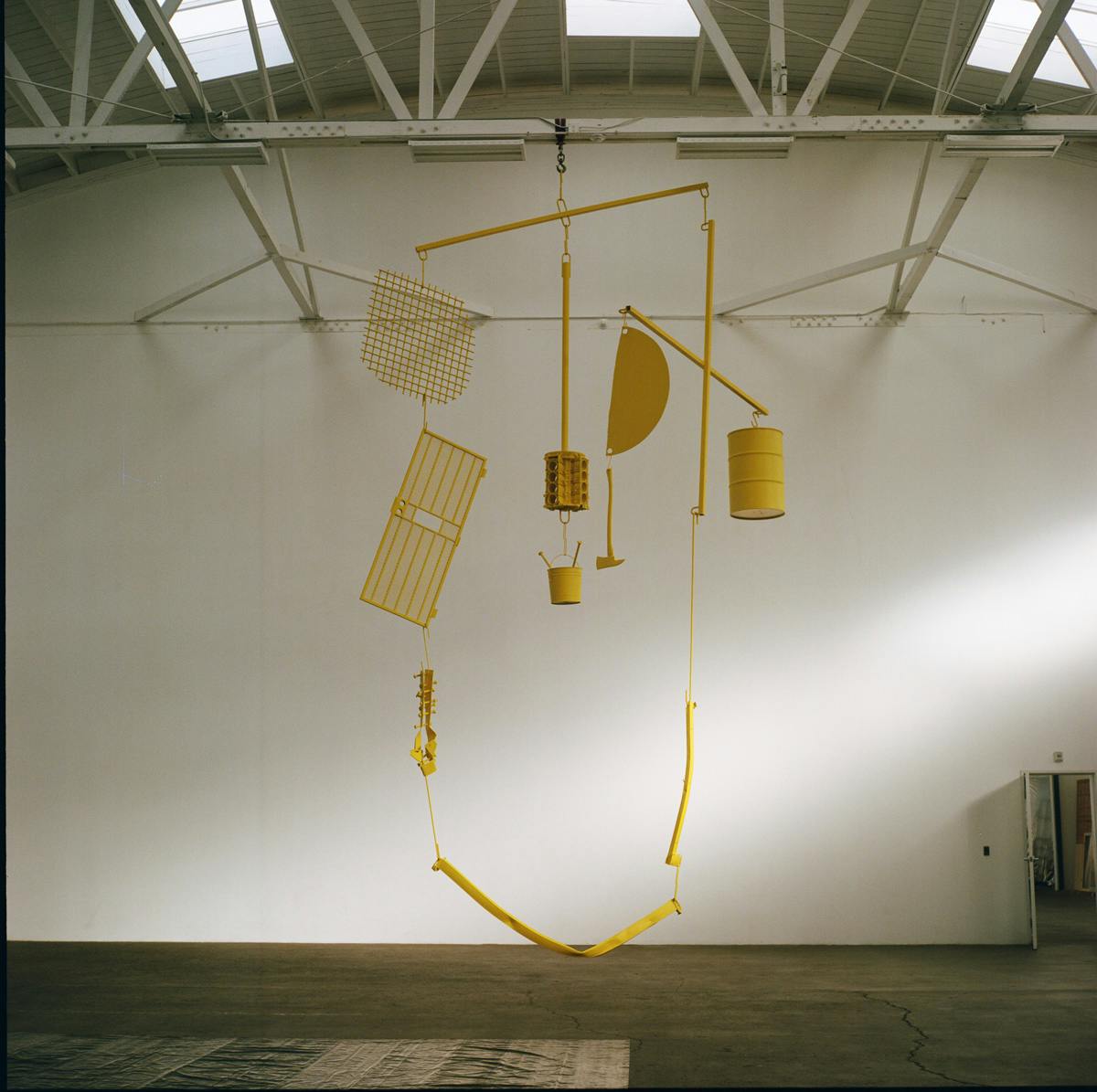 "Being an artist is equal to being schizophrenic — you have to change constantly," Ruby tells me. Seeing both the way and the environment in which he creates gives truth to these words. Each room in his studio is dedicated to one medium. This is also how he prefers to show his work, favoring the focus on one craft per room over cross-disciplinary exhibitions, like many of his peers. In his studio, he has a specific tiny room for the "works on paper," some for ceramics and bleached collages. During my private studio visit, it quickly becomes clear to me how every single room explains a side of Ruby's story. Together, they represent his personality.
TEXTILE ROOM (EXPLANATIONS)
The Textile Room is where Ruby works on each piece that involves textiles, like his large-scale soft sculpture candles, quilts, flags, and garment backdrops.
Ahead of meeting with Ruby, I read about the sewing machine his mother gave him when he was a teenager. It was the starting point for him to create custom clothes, soft sculptures, and eventually graduating to fashion. "I wanted to ask her if she knew what it meant to get me a sewing machine at the age of 13, in this environment," Ruby explains. "The school that I went to was very rural and isolated from any type of culture. I couldn't stand how strict it was, I despised it. I think she did it on purpose."
Back then, gender roles were so determined in the Amish community he grew up in. Boys were taught to work on wood or construction, girls on textile. Giving him that sewing machine — traditionally reserved for girls — was a visionary act of liberation from his mother, since it stimulated his creativity. Ruby would customize his clothes. As a result, other teenagers within the community would pick on him, assuming he was gay. He was a rebellious teenager and oftentimes got into fights with his fellow classmates. He couldn't stand how narrow their minds were.
Ruby always questioned the rules and he's still trying to reset them. He never really cared about conventions or commonplaces. For him, the notion of "truth" should always be challenged. Some contemporary art curators and collectors remain profoundly against the idea of artists collaborating with fashion houses. So seeing an artist of Ruby's caliber starting a fashion company can feel threatening at times. Especially for those who bought his work and don't want to see the value decrease over the years, afraid the connection with fashion will dilute their possessions. The art world wasn't ready to end what he calls the "segregation of practice," but he has already convinced some of those who were once perplexed. To that extent, Sterling Ruby is a pioneer.
LARGE SCALE ROOMS (FOR FREEDOM)
Continuing the tour, I'm stunned by the high ceilings of each room in this part of the studio. Ruby explains to me how this scale gives him freedom to envision an exhibition without thinking about any technical or physical constraints.
Freedom is a concept that resonates, and the idea of escaping is anchored in his work, in which he often addresses psychological experiences that he felt he dealt with in his life and potentially will have to deal with in his future. He also relates freedom to the feeling of being trapped growing up; within his paintings, for instance, you can identify windows or bars. It addresses time as a prison analogy. These paintings are a formal representation of opposites — inside vs. outside, before vs. after.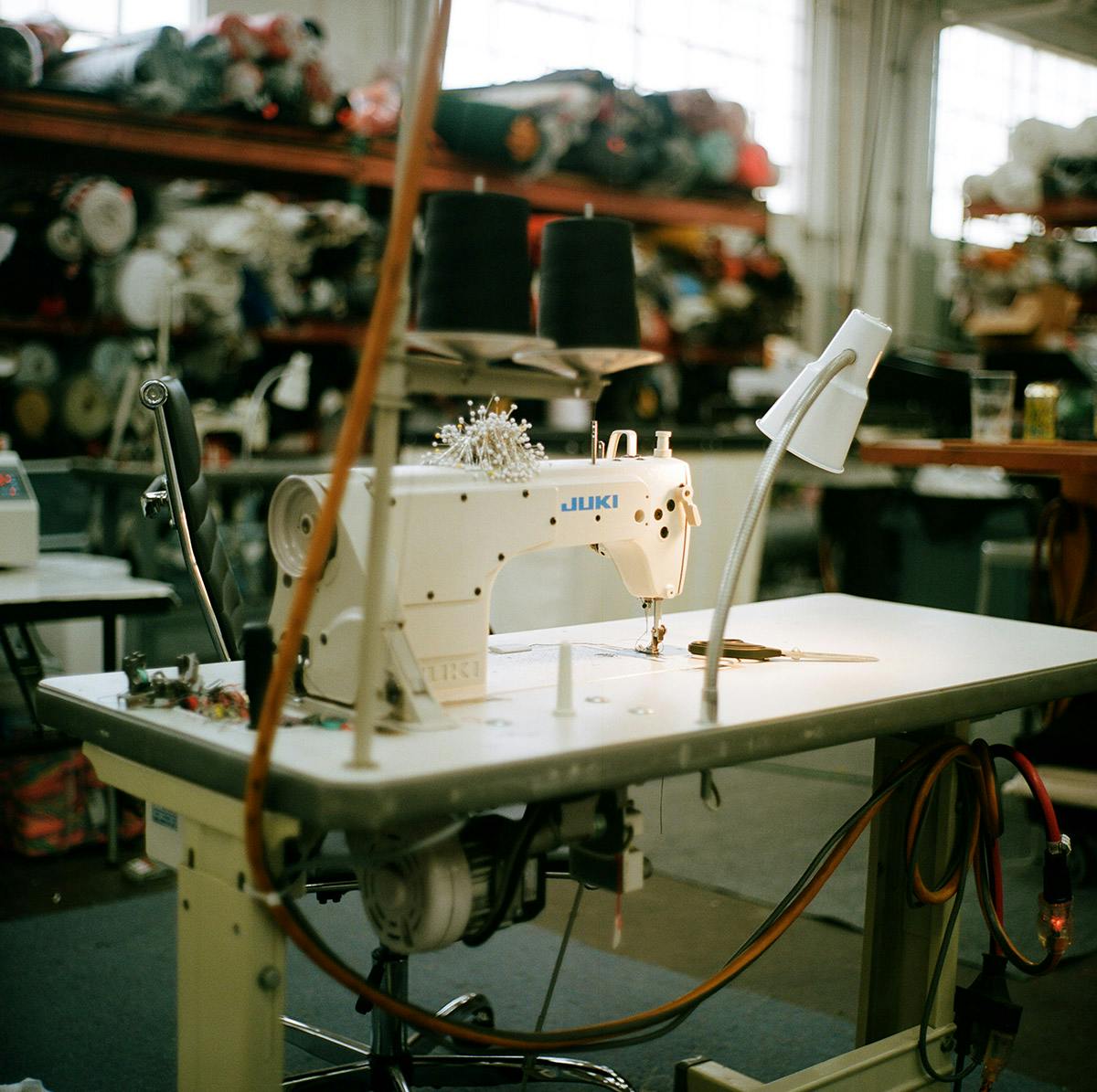 In February 2019, during the inaugural edition of Frieze LA, I visited Sprüth Magers, Ruby's LA gallery. His video STATE was on display, in which he addressed freedom and, more specifically, mass incarceration in the State of California. STATE shows aerial views of the 35 adult state prisons (it oscillates now and then between California and Texas for most in the country) that he shot for almost five years. He was shocked by the amount and the scale of prisons you can find in California. The state is known for being the most liberal in the country, but at the same time has about 180,000 people who are incarcerated. I remember this art installation from another artist, who said, "Since 1980, California built 22 prisons and one university," (a statement some claim is inaccurate).
Ruby gave the entire proceeds of the video to the American Civil Liberties Union (ACLU), a non-profit organization created to defend and preserve the individual rights and liberties that the Constitution and the laws of the United States guarantee everyone in the US.
"I'm still very connected to Middle America," he says. Indeed, Ruby is still a very political artist and his fights are interesting for two reasons. Amongst the living stars of contemporary art, he's one of the few who is still heavily political. Secondly, within this group of star artists, he doesn't only preach for his own community but also for others. You'll see him addressing mass incarceration that mostly strikes the African-American community (statistics show that one-third of all male African-Americans born after 2001 will end up in jail during his life, against one-seventeenth for white male Americans). He also fights for gender equality with different types of sculptures he has developed because he felt the ones he used to create were "too phallic."
OUTSIDE AREAS (FREEDOM OBSESSION)
We move on through the studio, into the huge outdoor areas where, periodically, Ruby works under the California sun. Outdoor spaces are used in a similar way as the inside galleries. There, you can find a few unusual figures such as enormous rusty, metallic structures that can be used as ready-mades. There's also a truck in decay, covered with urethane that he might use in a future show.
I was also able to admire a huge sculpture similar to the one I saw in the Coachella Desert X 2019 Biennial. Some of his sculptures can be left outside for months until they're ready. Their aim is never to be perfect, as with Japanese wabi-sabi aesthetic.
Before meeting Ruby, I watched a video interview of him painting outdoors with an enormous paintbrush, and I was struck by the resemblance of his practice with that of Julian Schnabel as seen in the 2017 documentary Julian Schnabel: A Private Portrait. Like Ruby, Schnabel crossed-over disciplines into cinema long before it became generally accepted. "Julian is unique. He's historical and a lot of young painters should pay homage to him. The way he has been able to cross over into films, it's amazing. I think a lot of times when artists try to do something else, it doesn't necessarily translate. Julian has proven to be just as good as a filmmaker as he is as a painter." Do I think Ruby will succeed his crossover into fashion? Most definitely.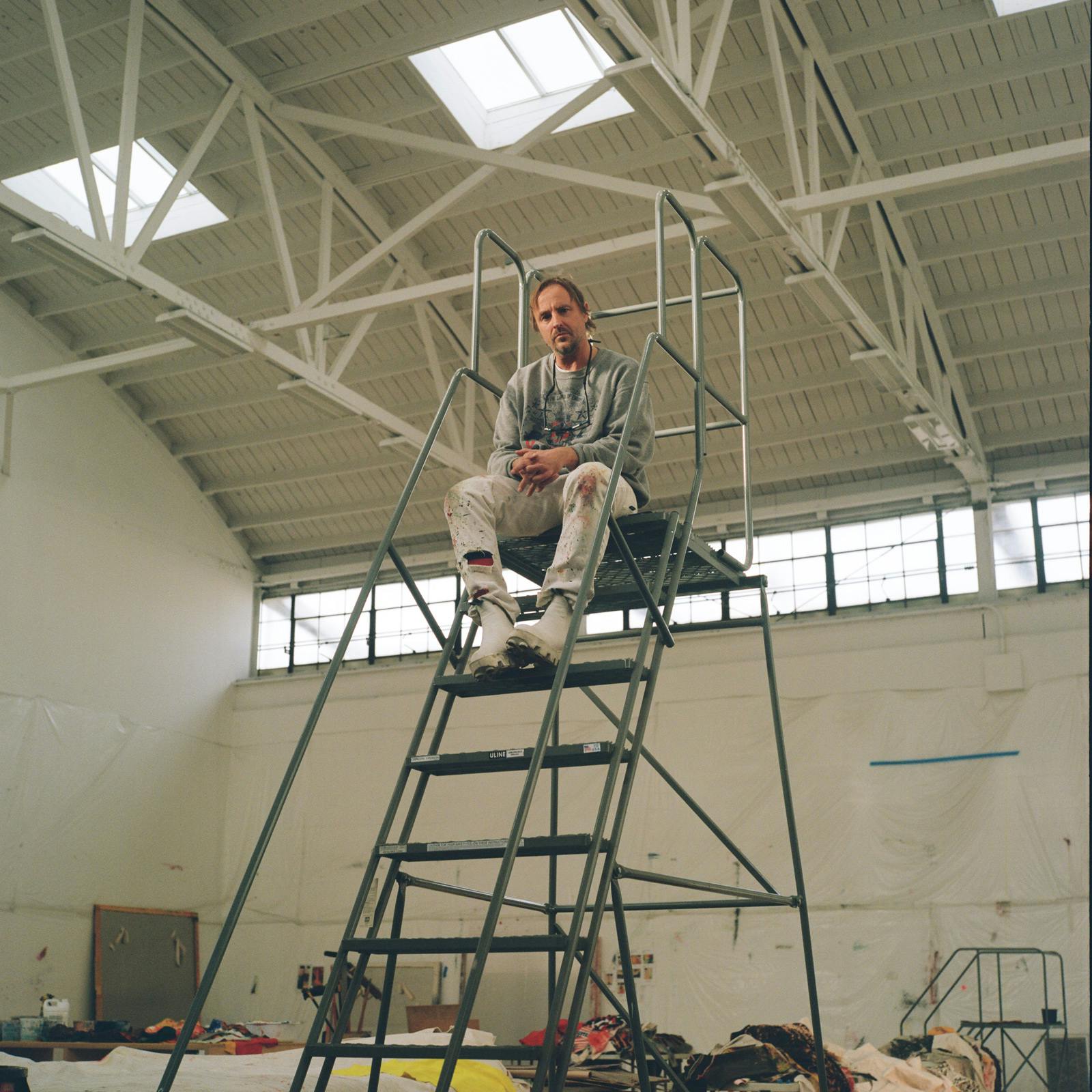 Highsnobiety / Raphaël Chatelain
SHOWROOM
We continue to walk into Ruby's showroom, where he shows me the collection on racks. On the side, there is a mix of aluminum accessories and objects — axes, baskets, and a shovel.
The clothes he made back in the mid-2000s were legendary before he even had S.R. STUDIO. LA. CA., largely due to his Raf Simons collaborations. He actually got copied by a few designers even before creating his own brand.
S.R. STUDIO. LA. CA. is divided into four distinct fashion identities, which is also how it's sold in stores. S.R. STUDIO. LA. CA, the main line; ED. 50, a rotating edition of limited pieces produced in quantities of 50; SOTO, garments constructed with fabric handworked by Sterling Ruby Studio; and UNIQUE, one-of-a-kind pieces designed and realized by Ruby himself.
Making editions and unique pieces is similar to what he does in art. Pricing for those pieces follow the same dynamic, UNIQUE being the most expensive — still dramatically less expensive than the artist's actual art.
You can spend a few thousand dollars for a UNIQUE piece, and to me, it's quite reasonable, if you think about the fact that each piece is handmade by Ruby and you're walking with a real piece of Sterling Ruby art around your shoulders. Right now, most fashion houses are run by creative directors who create the overarching narrative of their seasonal collections, and then hire other designers to bring the actual clothes to life, whereafter the person in charge edits the collection and makes it cohesive with the other components in a show, like casting, hair and makeup, set design, and music. Art and fashion collaborations as we know them today started more than 80 years ago, when couturier Elsa Schiaparelli partnered with Salvador Dali on a range of items, including the duo's now iconic Lobster dress. At the time, the designer and the king of surrealism shared a singular relationship. Since then, art and fashion have always mingled, but over the last decades, at times, it seemed like their relationship has become twisted and its original meaning has been lost.
Fashion, oftentimes, has leveraged art to create a more intellectual sphere around itself, most of the time by creative directors who aren't designers-first. Meanwhile, artists look to fashion to expand their reach and make use of the often unlimited financial means of luxury fashion houses. I don't remember how many Andy Warhol or Alex Israel collaborations I've seen over the years, but for sure too many.
Ruby denies the traditional notion of a studio as it's commonly known in the art world, where an artist's apprentices create art in the name of the artist, much like a fashion house. Instead, Ruby is involved in the making of every single work that's put out in his name. It was sets him apart, both in art and fashion.
As organic as Ruby's transition to fashion has been, the dominant narrative in the media is that his art dealers weren't as enthusiastic as many fashion editors. Ruby mentioned Gagosian gallery as "one of those who mostly accepts fashion."
"Gagosian has always been one of the most encouraging dealers when it comes to pursuits outside of the realm of fine art, at least in regard to what I'm doing. He's incorporated exhibitions of fashion photography, design, and choreography into his programming, expanding on the parameters of crossover," Ruby says. "I enjoy being, what I can only perceive, a creative director. Thinking about campaigns, about architecture, space, and design," he adds. "To be honest, I don't really see a hierarchy in what I do." Pioneering a new trajectory, switching from a respected contemporary artist to creative director of a fashion company is unprecedented, and Ruby has always been uniquely positioned to pave the way.
OPEN SPACE/MEETING ROOMS
We end our interview in a classic glass meeting room with a long table and a coffee machine. A diffused neon light, similar to what one finds in a gallery, is mounted to the ceiling, and the walls are covered with Ruby's work on paper and posters. Deeper down in this part of the studio, there's a massive library consisting hundreds of books.
Like the environment of the rooms, the studio, too, is run like a traditional company. Ruby has hired many people to work on the business side of his fashion brand. At the moment, the label remains 100 percent self-financed, which gives him a certain autonomy. Given the enthusiasm of fashion insiders after his first show, we wonder what his next step is? When and where will his next fashion show be? Are there any store opening in the pipeline? Any fashion collaborations?
After his fashion debut in Pitti in June, he told Highsnobiety: "If you would have asked me 15 minutes ago, I don't think I would have been able to say yes or no [to a continuation of his fashion line]. But yes, I really enjoyed it and I like working with all of these people. [The line] might not be seasonal but it was good." It's clear Ruby doesn't like constraints and refuses to play by the rules, dictated by the fashion industry whose seasonal collections control the pace of designers.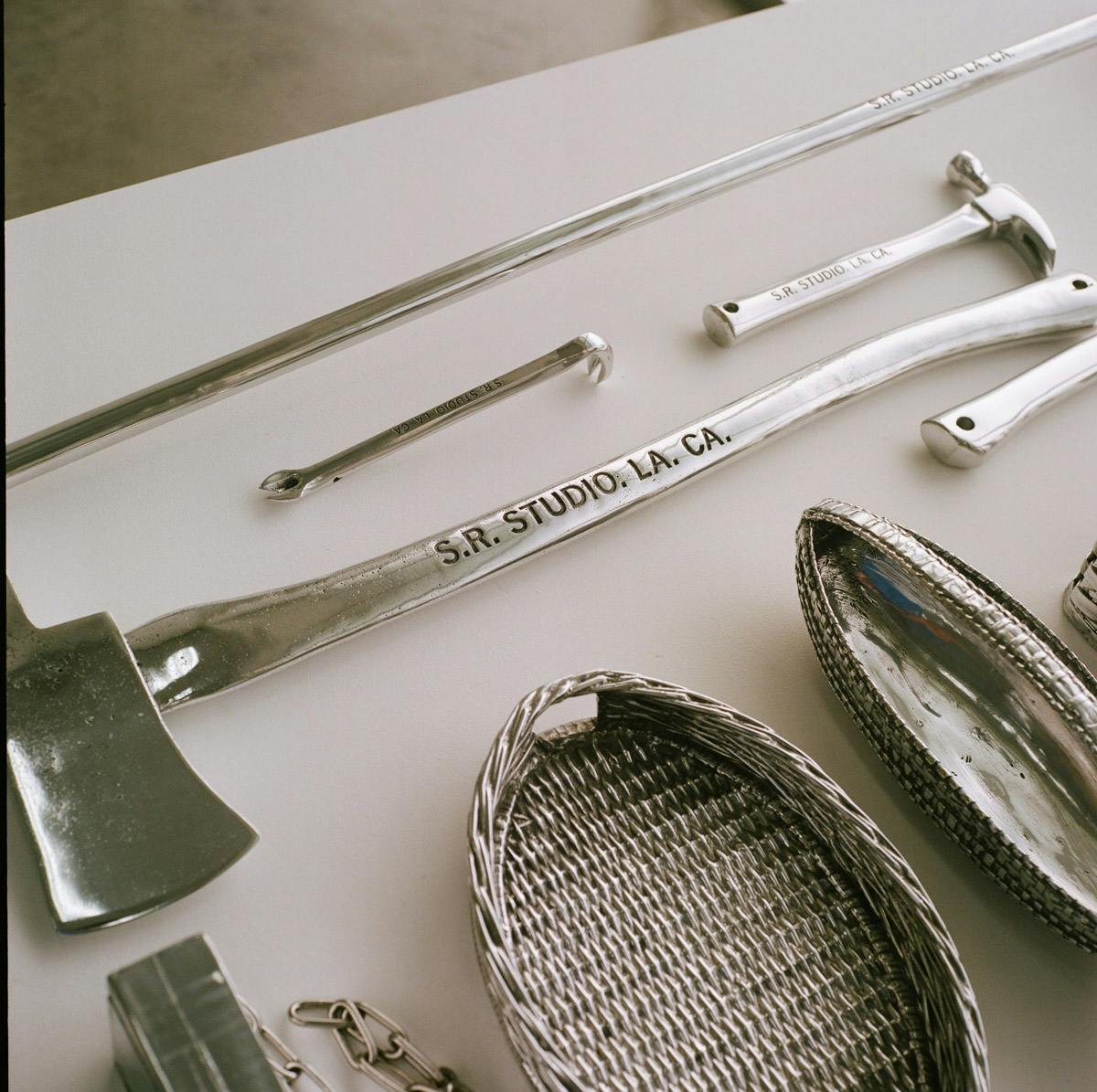 "Collaborations have been suggested," he says, adding he doesn't want to rush anything and grow organically instead. "I think the next show should be in Paris. It would make a lot of sense."
I ask the artist if he and Raf Simons will ever collaborate under Ruby's label: "Raf is someone I admire so much and in many ways he could easily work with me as an artist. Maybe our next collaboration shouldn't be in fashion. We'll see!"
After a decade of making clothes for his own pleasure, Ruby has gotten a reality check, where fashion is now a business. "For better or worse!" he jokes, but as he does with everything else, he'll do it on his own terms.